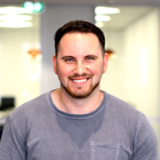 Nice to meet you!
Hello there I'm Alp, a UX UI designer currently transforming the retail ecommerce industry at Adairs, to a more user friendly future.
I have a knack for problem solving in design, especially on digital platforms. Combining research, rapid prototyping, interaction and visual design to transform complex problems into elegant solutions.
When I'm not designing, you can find me competing in online eSports racing events online, playing indoor soccer, going to the gym and exploring yet another hiking spot in Victoria.
Reach out to me, and lets work together!
alp@alpcreative.com.au