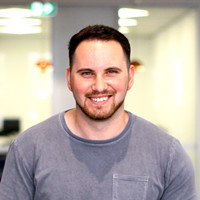 Alp Akdogan
UX / UI Designer
eResults Doctor
Application
Saas - UX UI
Overview
Clinical Labs eResults provides digital access (web & mobile) to medical practitioners to view pathology results of their patients online.
The Goal
Redesign the current eResults web & mobile application to a new responsive, user friendly platform.
Team
I worked in a cross-functional team of developers, project managers, BA's and marketers.
My role was more a Product Designer for this project. I was involved in all phases of the project, from mapping out the problem to delivering final designs, and helping the development team with front end coding.
Responsibilities
User Research, UX Design, UI Design, Prototyping, Testing
User Research & Analysis
What do we need to know?
Aim of this user research was to gather feedback on our digital systems (mainly eResults) from medical specialists in selected specialty areas.
Understand the main use-case for doctors in regards to access to pathology results (Paper, Digital, Mobile)

Identify pain points in terms of access, user interface or presentation of information

Identify pain points in terms of missing or delayed results

Feedback on current eViewer website and mobile app UI

Feedback on report format, presentation and ability to share information

Understand the use of our competitor's digital systems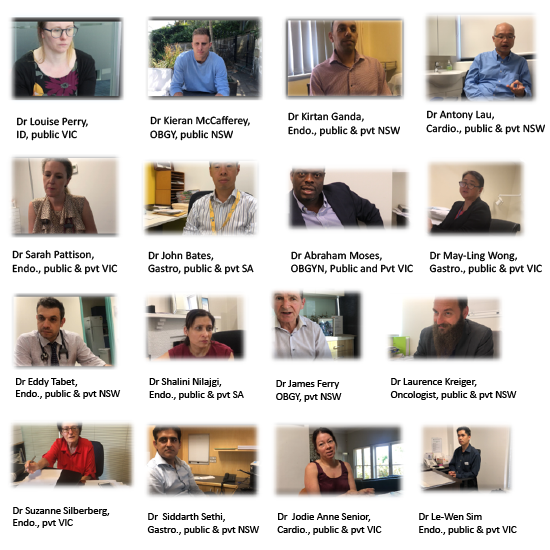 User Interviews
To help identify user needs and problems, I interviewed 19 medical specialists in Melbourne, Sydney and Adelaide (6 Females, 13 Males)
Some interview questions asked:
What is your preferred pathology service provider?

What s you preferred pathology results access/delivery methods (Paper, Download, Web, Mobile)?

What is your preferred results access method?

When and how frequently do you look at results?

Do you have any Issues with results download or online access (new or existing patients)?

How frequently do you check pathology results on mobile?

Do you share reports with other doctors (referrals to surgeons, public system, GPs or other specialists) and patients?

Do you have any general issues with Clinical Labs pathology services?

Do you like any useful features of phone apps or results websites from other providers?

How frequently do you contact the lab via customer support line for results access?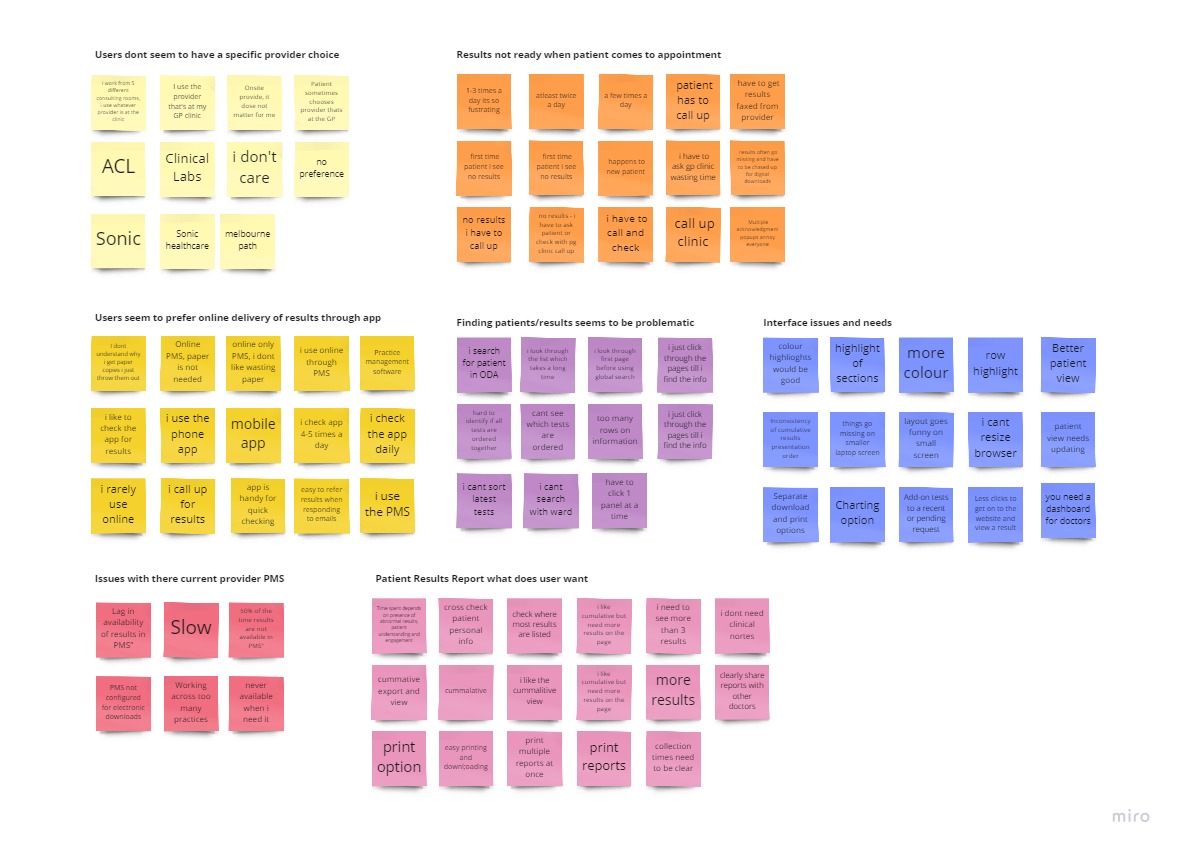 Affinity Mapping
Following the answers I got from the user interviews, I decided to map them out in and group them based on similarity.
I'm a huge fan of Affinity mapping, it helps me isolate specific user pain points and understand which ones are most reoccurring across users.
Synthesis
The affinity map allowed for some interesting pain points to arise.
Insights
Trying to locate results for new patients is the biggest shared pain point for all doctors.

Too many clicks, report view not responsive to smaller screens (laptops), not clear when crossing into an older episode

Patient results not displayed in latest to oldest, doctor cannot sort the results.
Recommendations
Web & Mobile Interface Refresh
Responsive design

Patient view with clear Episodes

Episode view with clear dates

Highlight unread reports

Cumulative view with colour rows and sections for easy identifying, fix formatting and cumulative view order

Global search option to find patient quicker in system.

Have a preview option for results.

Allow doctor preferences such as cumulative view order, panel display order.

Have referred tests reports available in eResults

Separate download and print options

Easy results copy options (for inclusion in referred tests)
Sketches
I usually start the design process with sketching. This is the way I iterate through many design options quickly and get everything in my mind onto paper.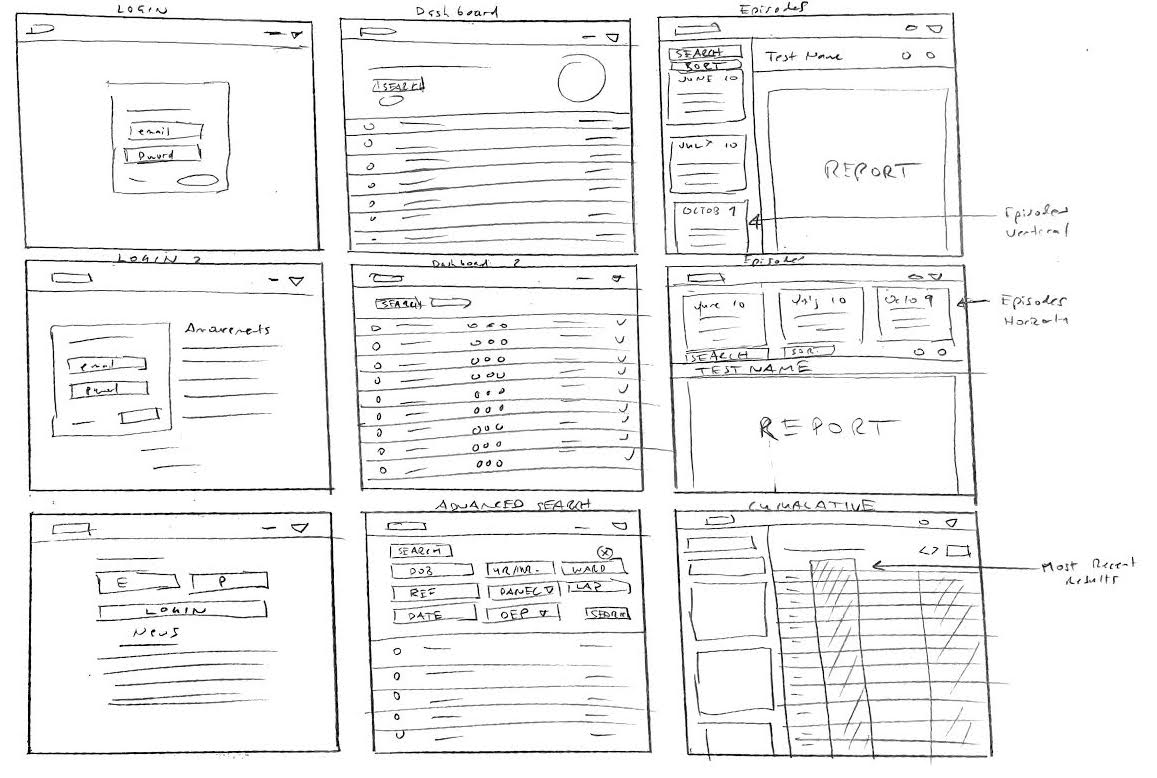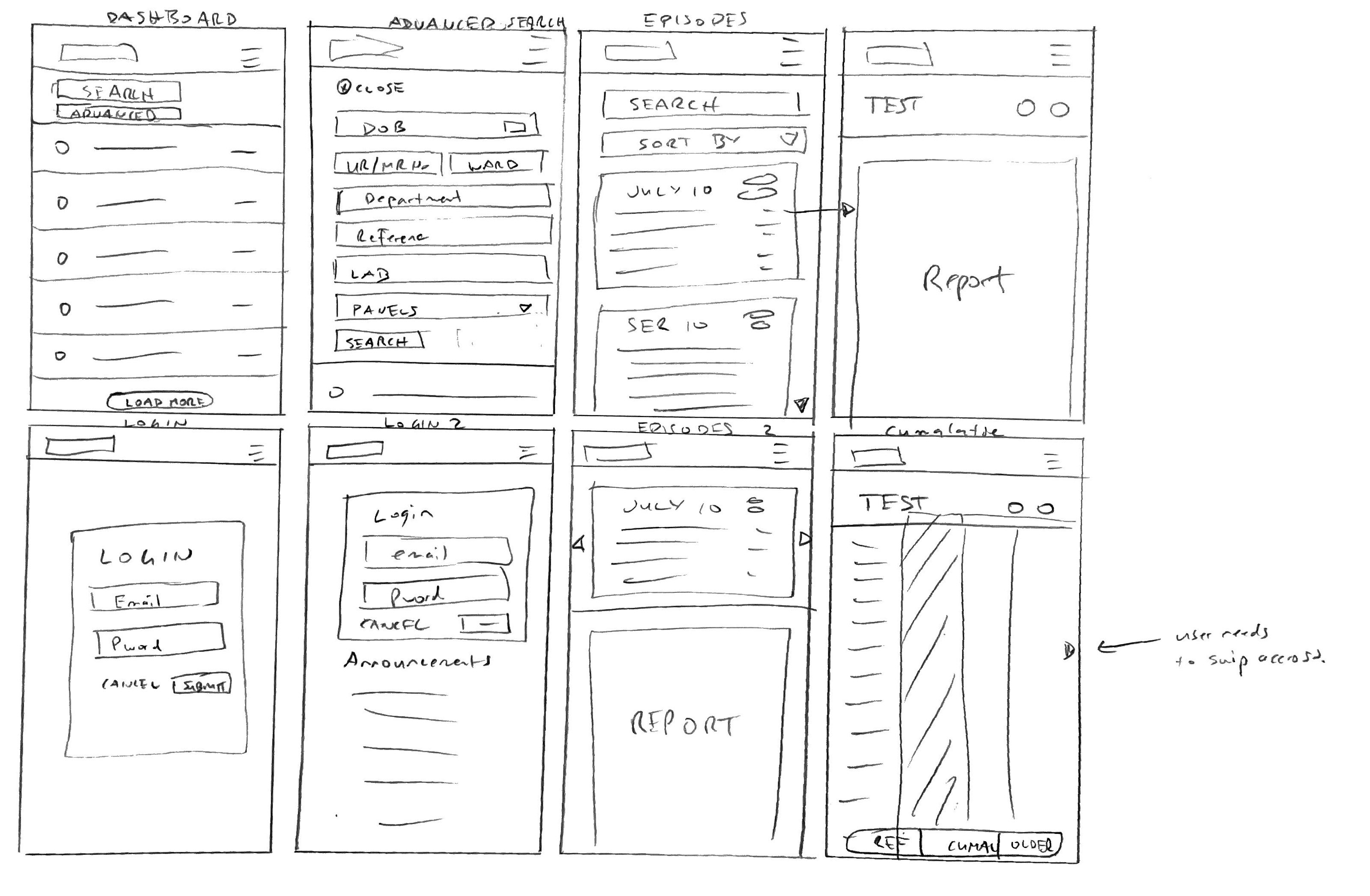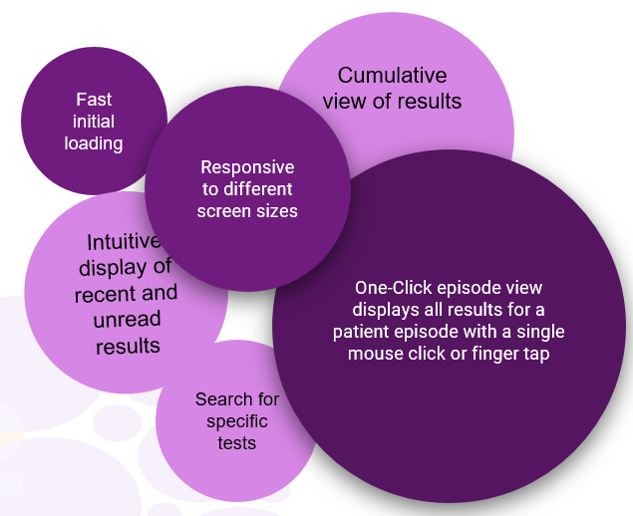 Prioritising the potential solutions
I got relevant stakeholders such as project manager and developers involved to review my sketches and to discuss different solutions. It helped us prioritise what features we want the user to have access to in the initial launch (Version 1.0).
User Journey Flow
With the solutions prioritised with the team, the first step I like to take in the design process is a creating a UX flow. This helps me understand the ideal user journey covering major screens the user will come across. It's a great way to scope out the depth of the application before beginning to shape the initial interface through wire frames.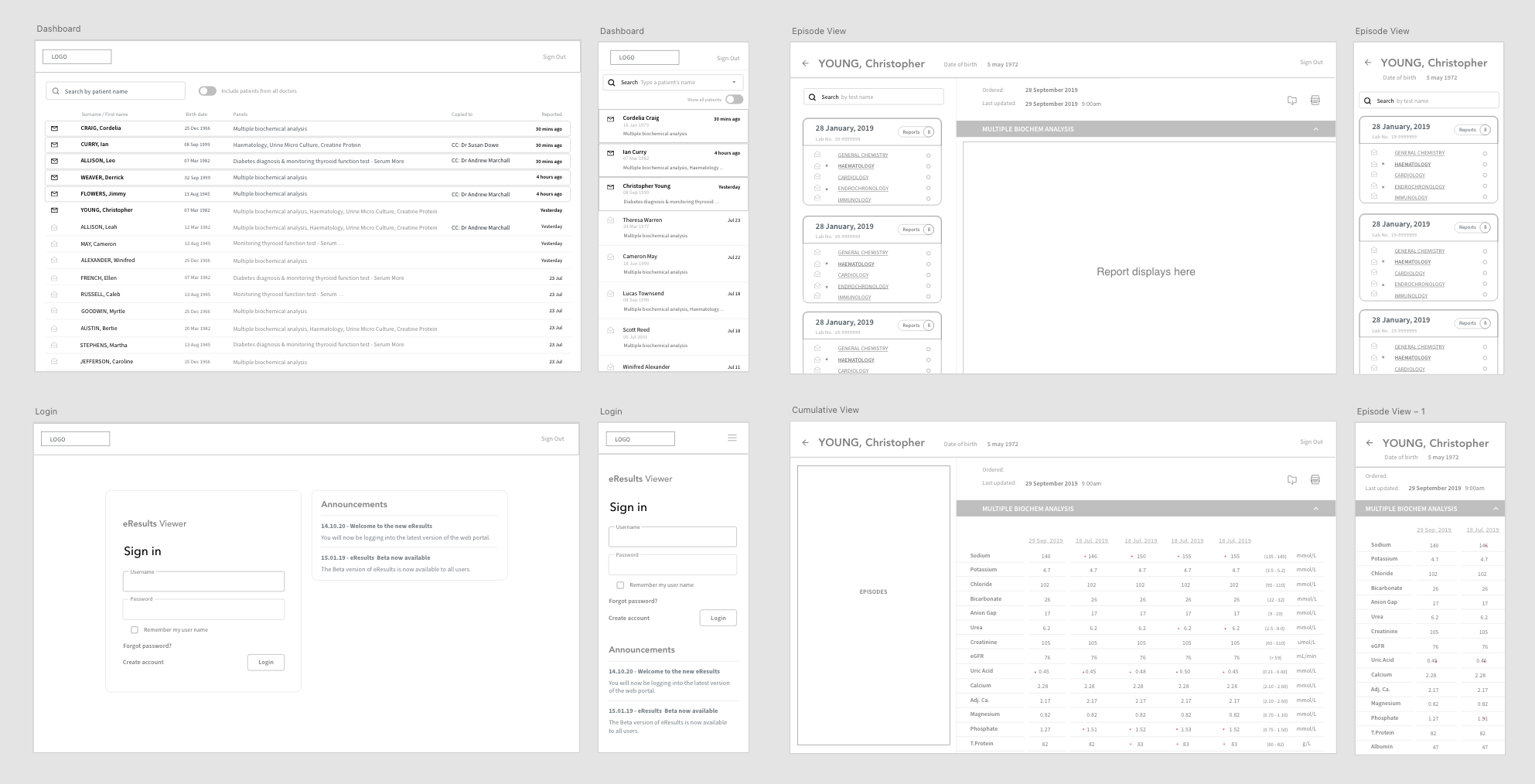 Wireframes
Mid-Fidelity Wireframes
We had a vast number of screens to cover all user scenarios, so I started to do wireframes to detail out the flow and begin to visualise how the redesigned portal will look and feel.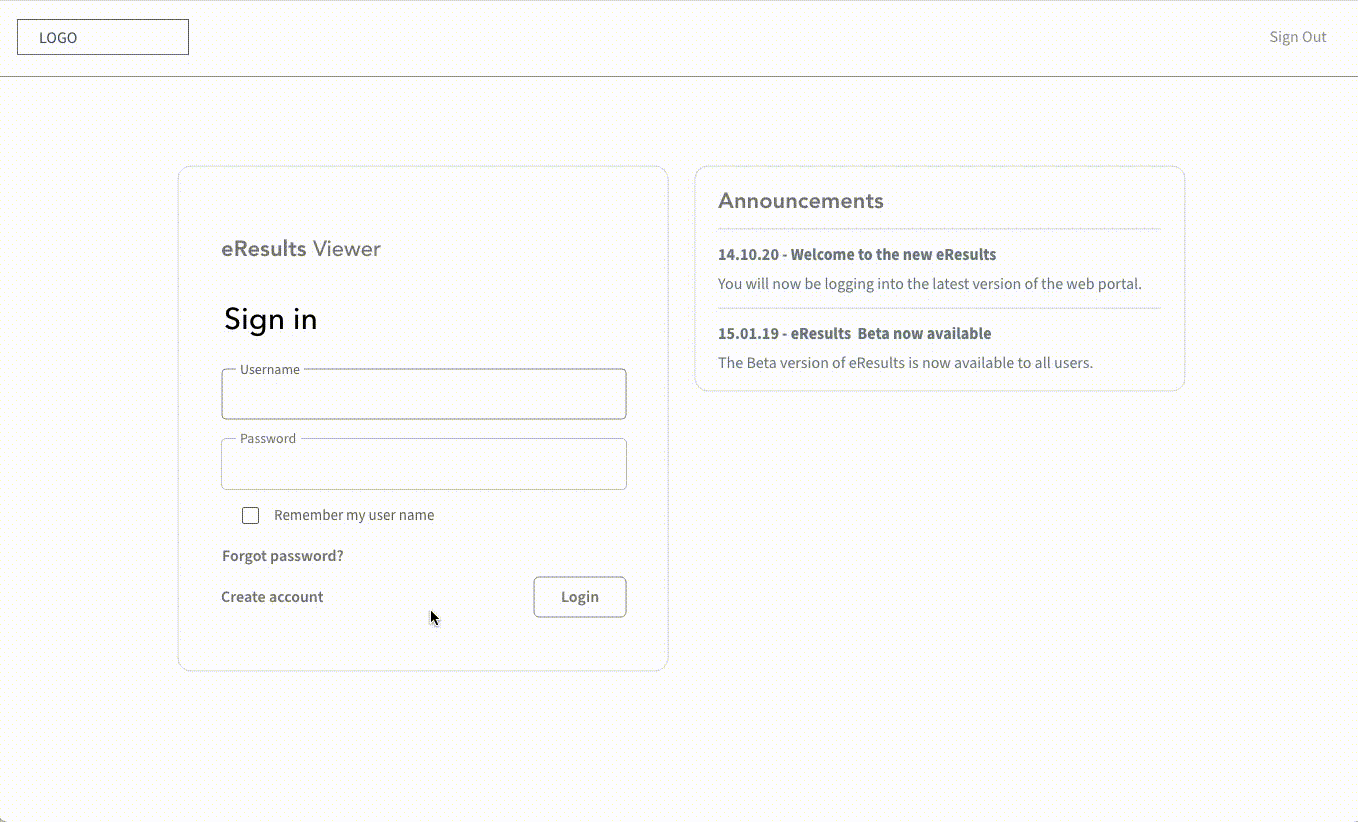 Usability Testing
Mid-Fidelity Prototype
Expanding from the wireframes, I made a mid-fidelity prototype to test the solutions with users.
I selected 5 doctors from the initial interview stage, and sent them a list of questions/tasks to complete with the prototype.
This allowed me to validate my synthesis, and fix the usability problems that may occur before moving onto high-fidelity designs.
UI Designs
Once all usability mistakes where addressed and the team were happy to proceed to the next step, I started designing the final screens in Adobe XD.
I went for a light themed interface with heavy emphasis on our brand purple in the header and throughout the application screens.

With collaboration with the development team we decided to follow Google Material Design as a base for the UI Kit which I customised to Australian Clinical Labs.
Once all the designs were completed I delivered them to the dev team via Zeplin. Zeplin allows for autogenerated code snippets from design files, which is a great help to myself and the devs in the coding/developing stage of the project.
What I have learned from this project
For complex UX problems research is a must. I couldn't have designed a product users love without the help of the people who will actually use it. The user interviews revealed unexpected information.
The biggest challenge faced in this project was the application being very dense in information. I needed to work out and how best to reflect this onto responsive smaller screen sizes (tablet & mobile view). This meant doing another prioritisation stage just for mobile view. Which meant leaving some features out, but if needed users could access these features on the web version of the product.
Current Progress
Since completing this project in March 2020, we have received many positive feedback from doctors and users. We continue to work towards adding new features to the eResults product, we are currently working on Version 7.0