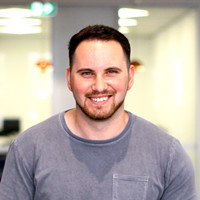 Alp Akdogan
UX / UI Designer
Medical Courier Booking Service
UX UI Mobile App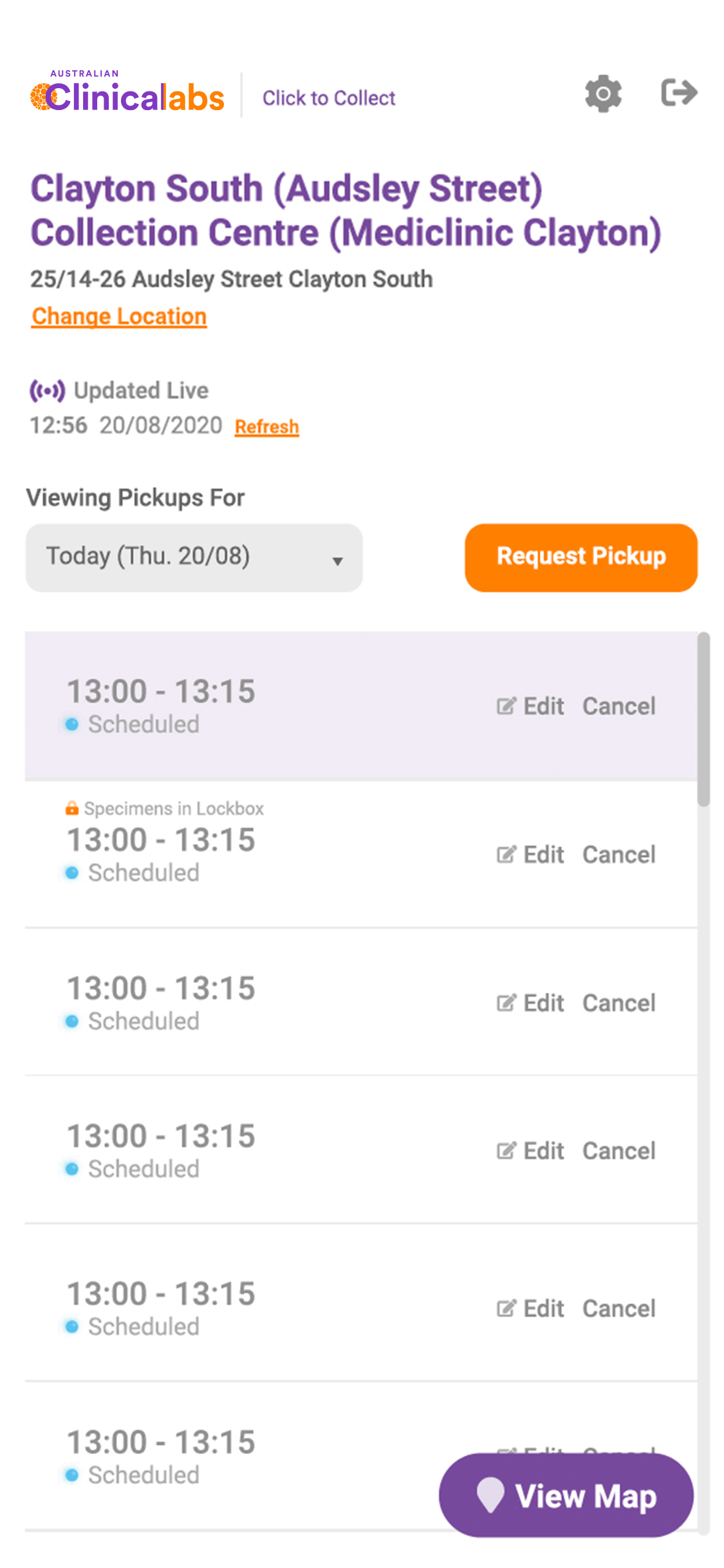 Overview
Clinical Labs' Click to Collect is our online courier booking service, which enables medical clinics and vets to request a courier pick-up with the click of a button, providing up-to-date arrival times and real-time GPS tracking.
The Problem
Couriers were being made to stop at medical centres where there were no 'blood specimen containers' to collect. This was due to constant miss communication via over the phone courier bookings.
The Goal
Objective was to design a simple mobile application for medical centres, so they can book a courier for 'blood specimen pickup' efficiently. Thus reducing the chances of incorrect courier bookings.
Team
I was the sole UX/UI Designer, I worked closely with developers and project managers. I was involved in all phases of the project, from mapping out the problem, to delivering final designs, and helping the development team with front end coding.
Responsibilities
User Research, UI Design, Prototyping, Testing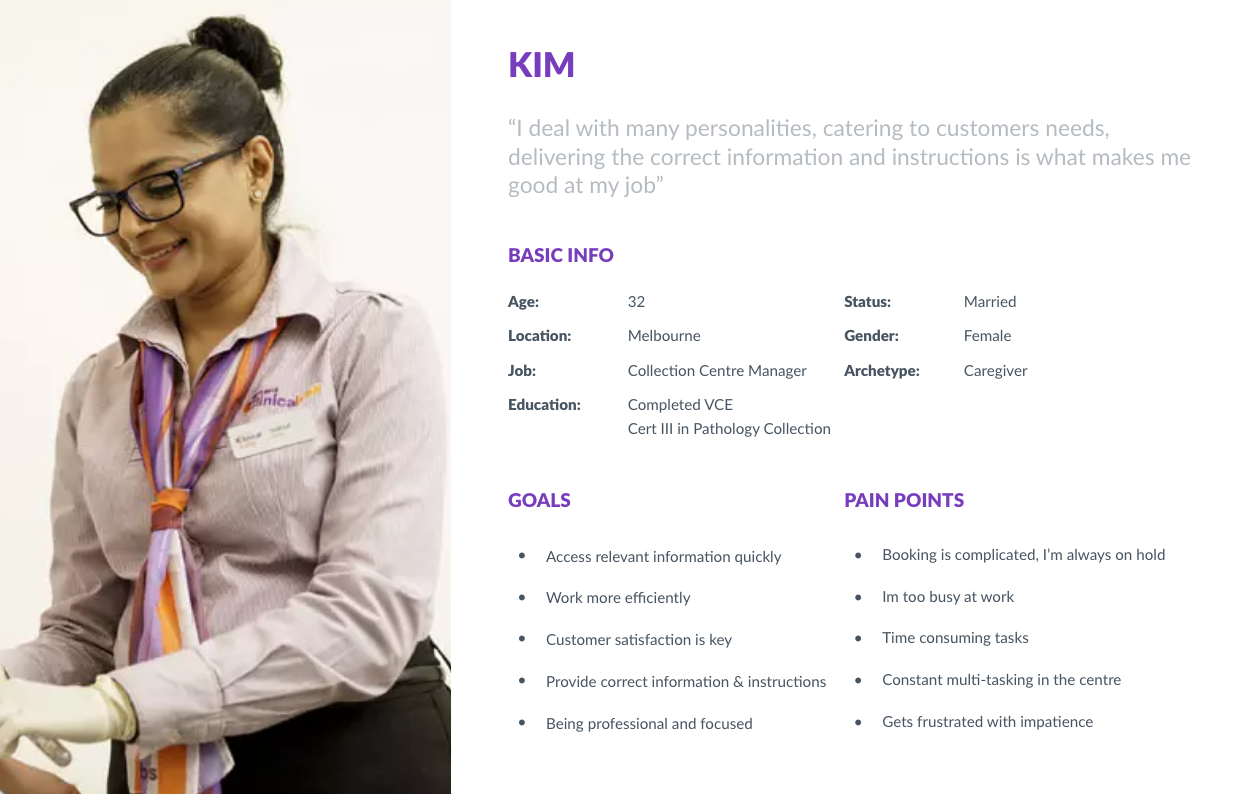 Understanding the 'Why' with
User Research
DEFINE THE USER
Starting off, I asked myself a few initial questions.
Who is our primary user?
What kind of goals do they have?
Why would someone want to use this application?

I interviewed the managers of four Medical Centres, to identify pain points, opportunity and insights. I found patterns in users perceptions and tasks and aggregated my findings in the form of a persona.
Synthesis
The insights gathered from user interviews validated the assumptions I made from the initial user feedback we had gotten prior to beginning this project.
THREE KEY PAIN POINTS
Users are extremely frustrated when they have to call to book a courier, they are left on hold and phone not even picked up at times.

Users are extremely busy, there main goal is patient well-being, so on occasions they forget to book, or cant be bothered booking because of the long process.

Users have said they sometimes book twice for couriers, as internal staff members forget to internally communicate that the booking has been made.
RECOMMENDATIONS
Allow for cancellation of bookings

Allow for allocation of pickup time and date

Allow for contact-less pickup - comments section that allows for user to let courier driver know any information regarding pickup.

Allow for user to track the courier driver and see the live location as they approach, pickup, and leave the centre.

Allow for user to change which medical centre they are viewing or working at
the time.

Unique user login for each employee or authorised admin.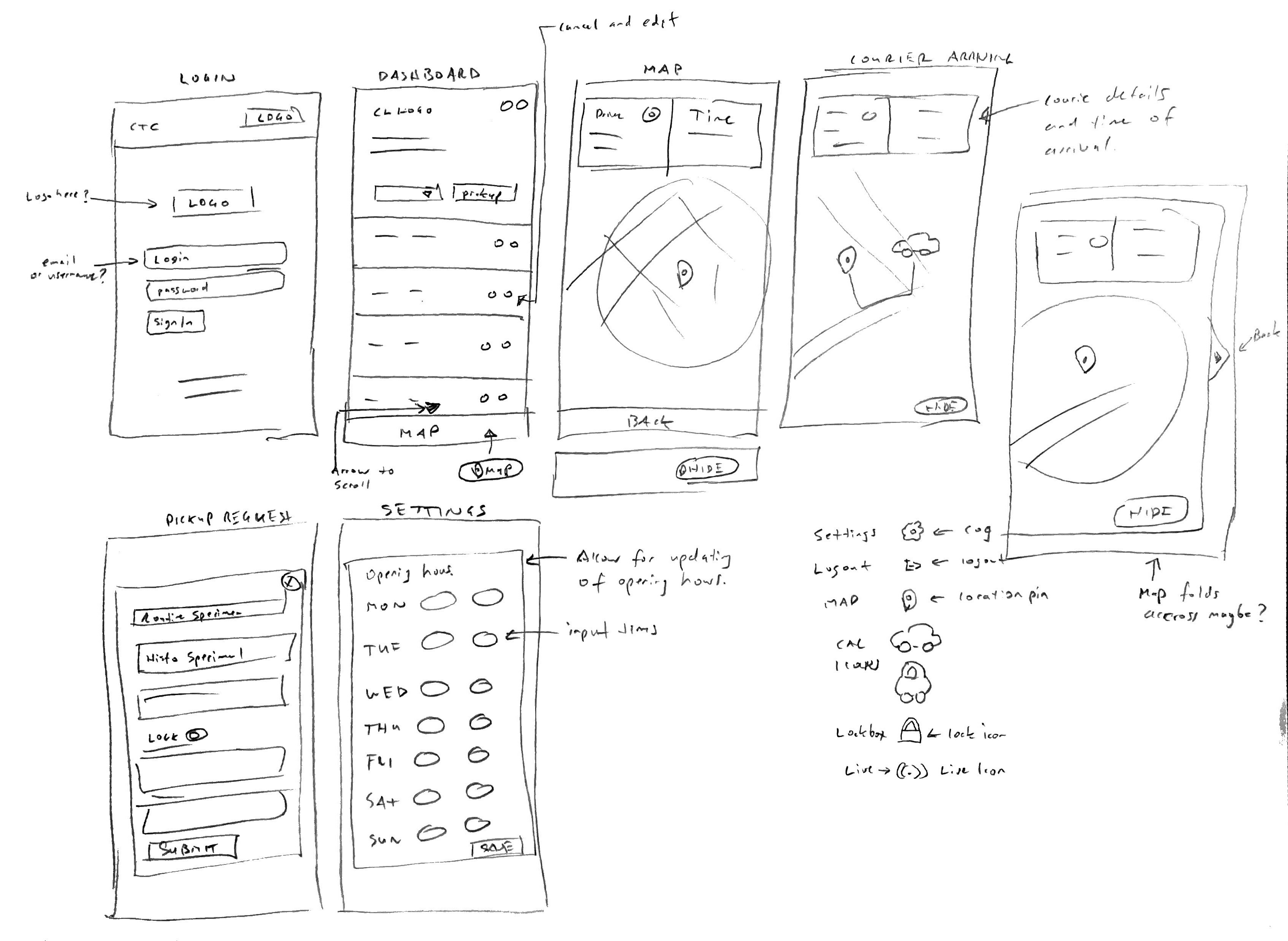 Sketches
I usually start the design process with rough sketches of ideas and solutions I had in my mind. I really enjoy the sketching phase before jumping into the tools such as Figma & Adobe XD. It allows me to iterate through many design options quickly and rapidly work with the team to gain feedback and further ideas.


User Journey
Before jumping into the wireframes I mapped out the users' steps to see how I could simplify their journey to help them reach their most important goals with the product.
User journeys are a fantastic way to scope out the complexity of the application, and helps me determine the number of screens required.

My main objective in this process is to try and workout how I can allow the user to get to their final goal with as little clicks as possible.
Wireframes
Further expanding on my sketches the next stage was to get these into wireframes with Adobe XD, to start visualising the application.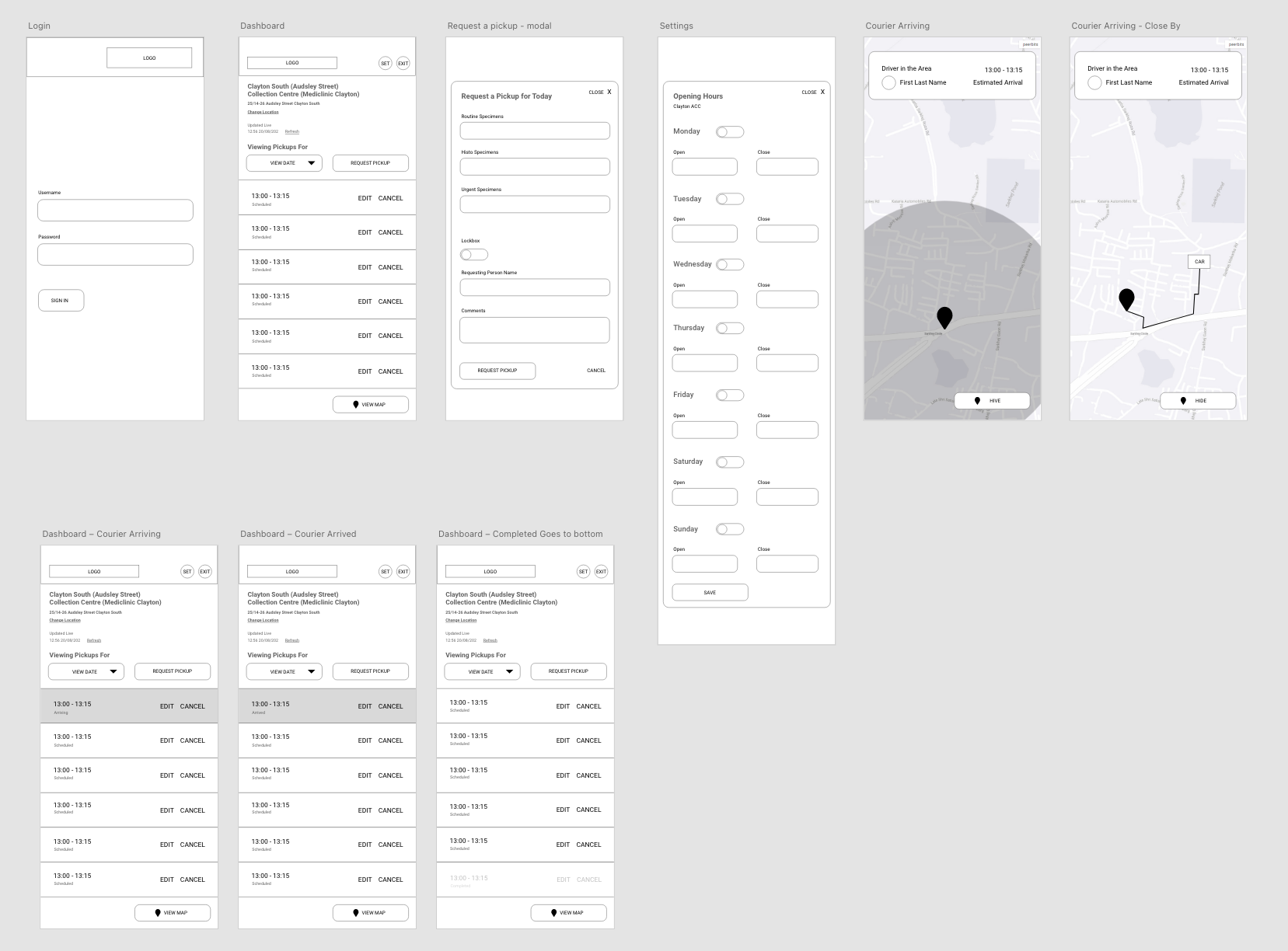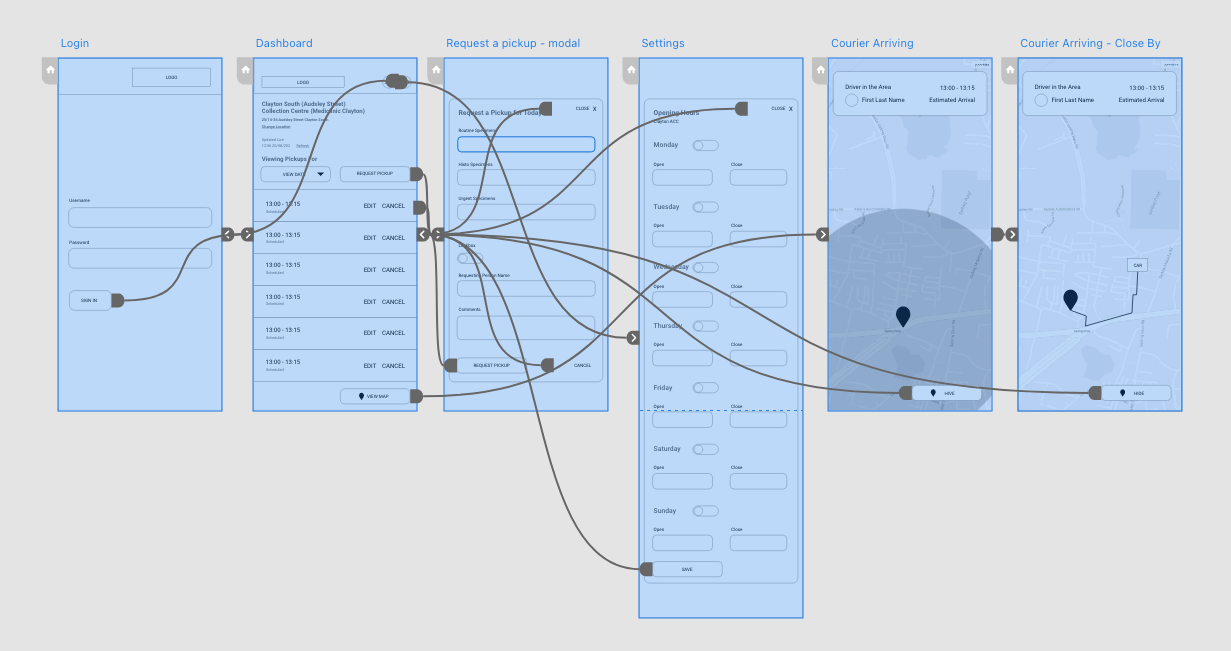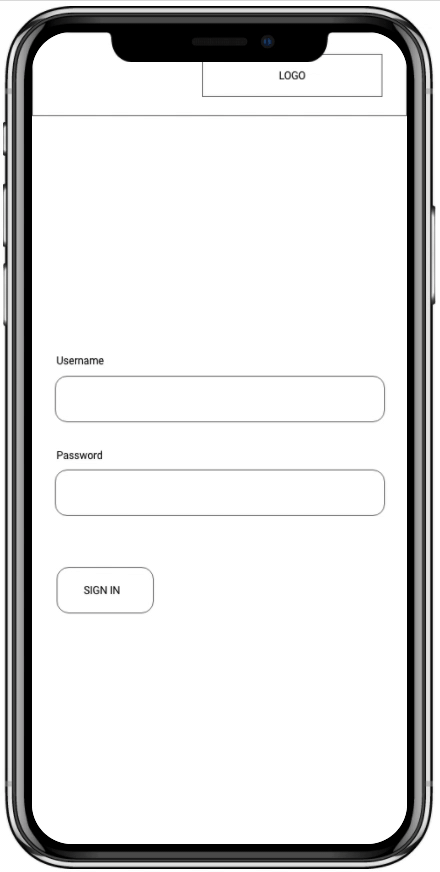 Mid-Fidelity Prototype
With the wireframes ready I created a mid-fidelity prototype. I uploaded the prototype onto a User Testing service online to quickly gather feedback on any major usability issues that may arise.
This process was very valuable and helped me to identify changes and focus on how to solve the user's problems without worrying about the visual design.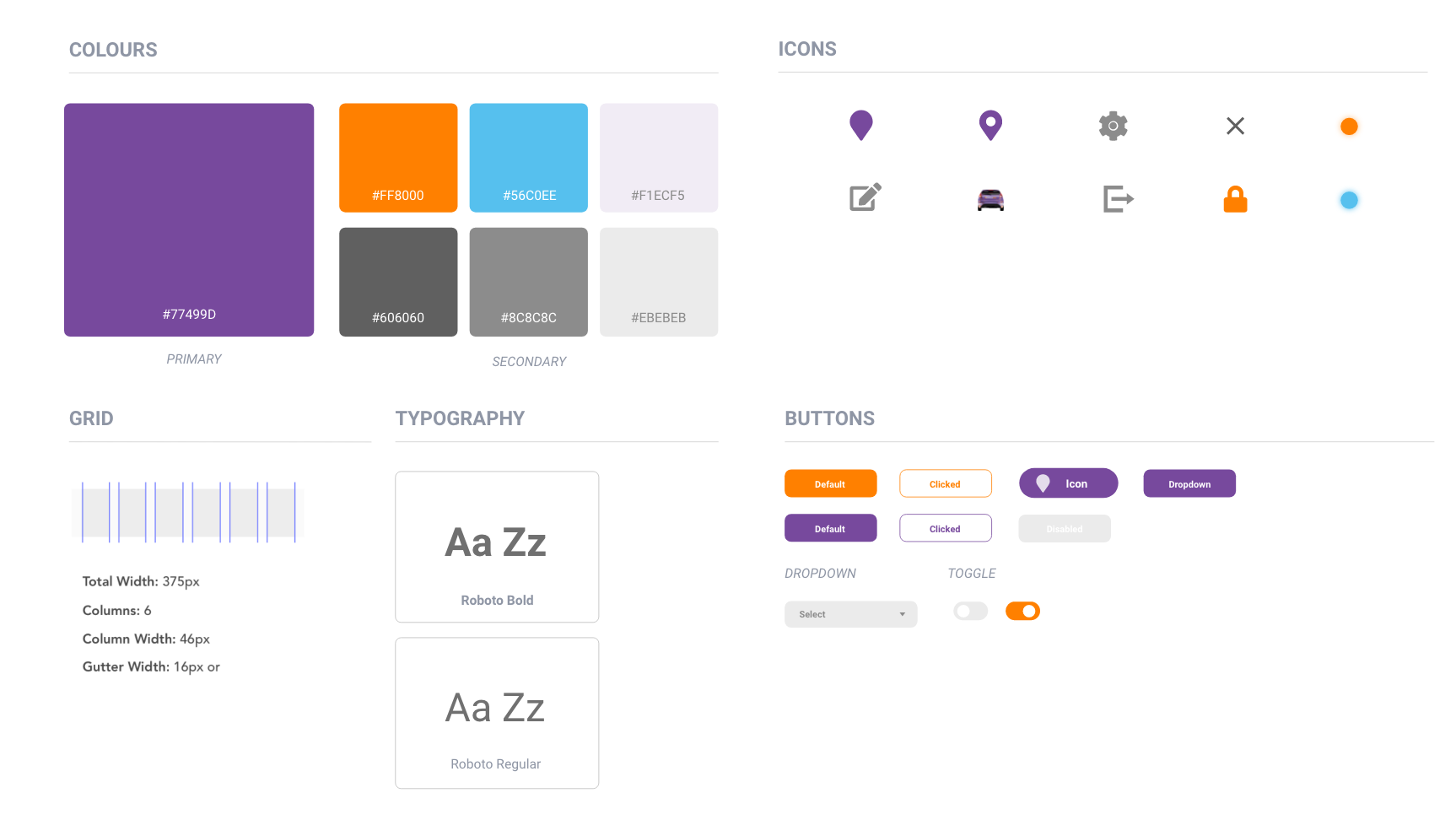 UI Kit
Before diving into the high-fidelity visuals I setup a UI Kit for the application that I can work from. This allows for myself and future designers to have a unified set of rules that we can follow, and makes the design process more efficient and precise.
The foundations used for the kit is Google Material Design which I have tweaked to match the Australian Clinical Labs style guide.
Australian Clinical Labs have a product suite of various applications, when I design these products i always make sure the interface has the same look and feel across the board. This allows for consistency and for users to easily recognise the Clinical Labs products from our competitors.
UI Design
Once all the usability issues were resolved from the mid-fidelity prototype, and the UI Kit was ready, I started designing the final screens in Adobe XD.
I went for a fresh clean corporate interface, with a large emphasis on light colours. The I'm a big fan of the way white space is used in interface design, allowing the user to feel emotionally calm and soothed when using the product.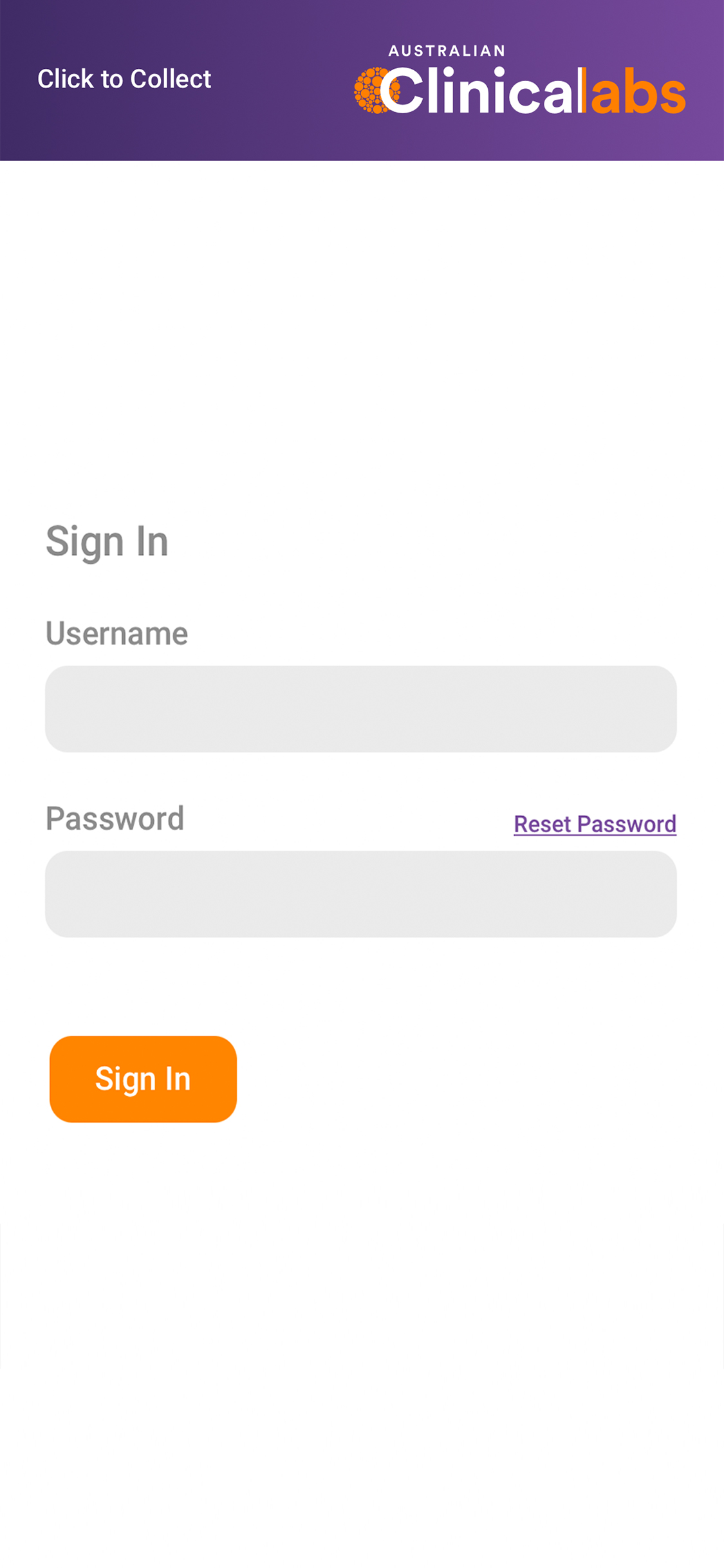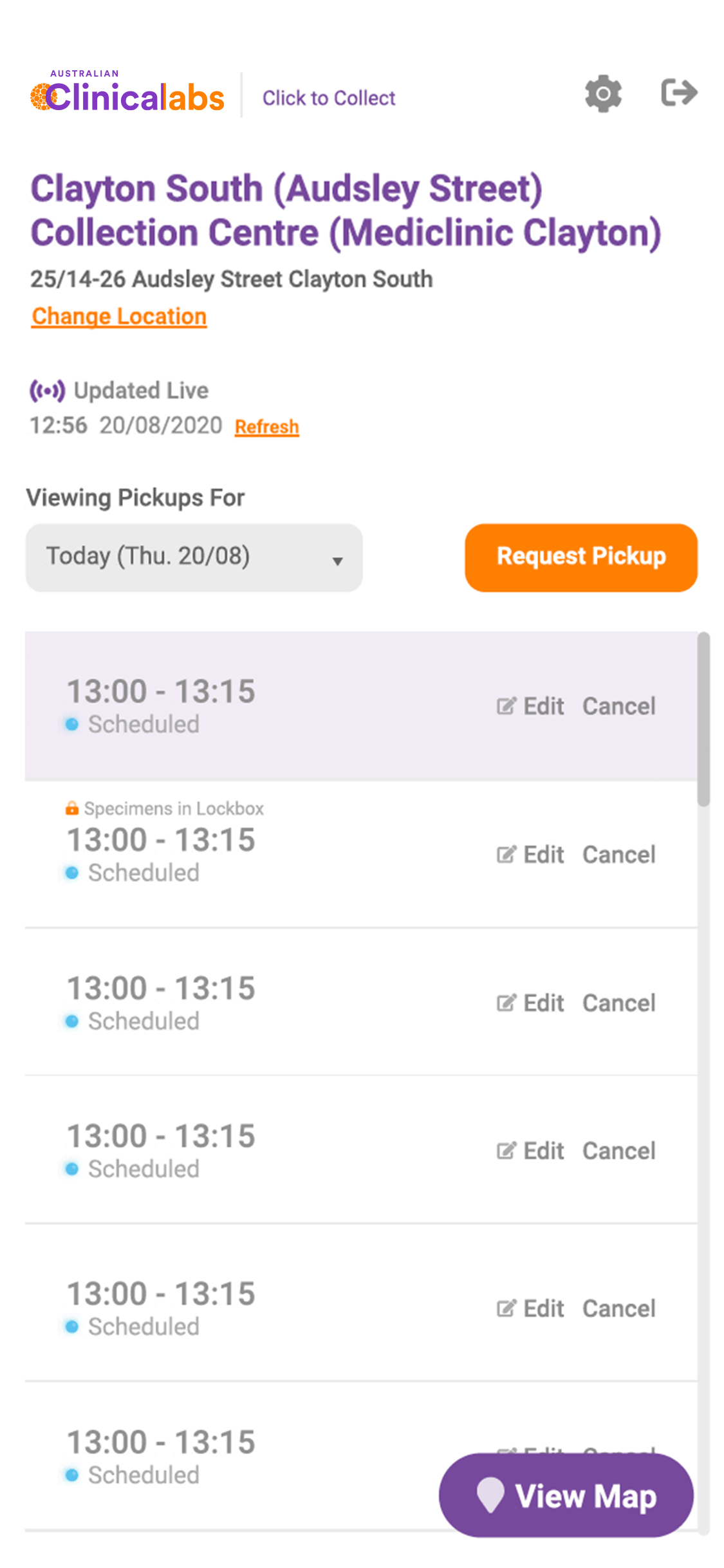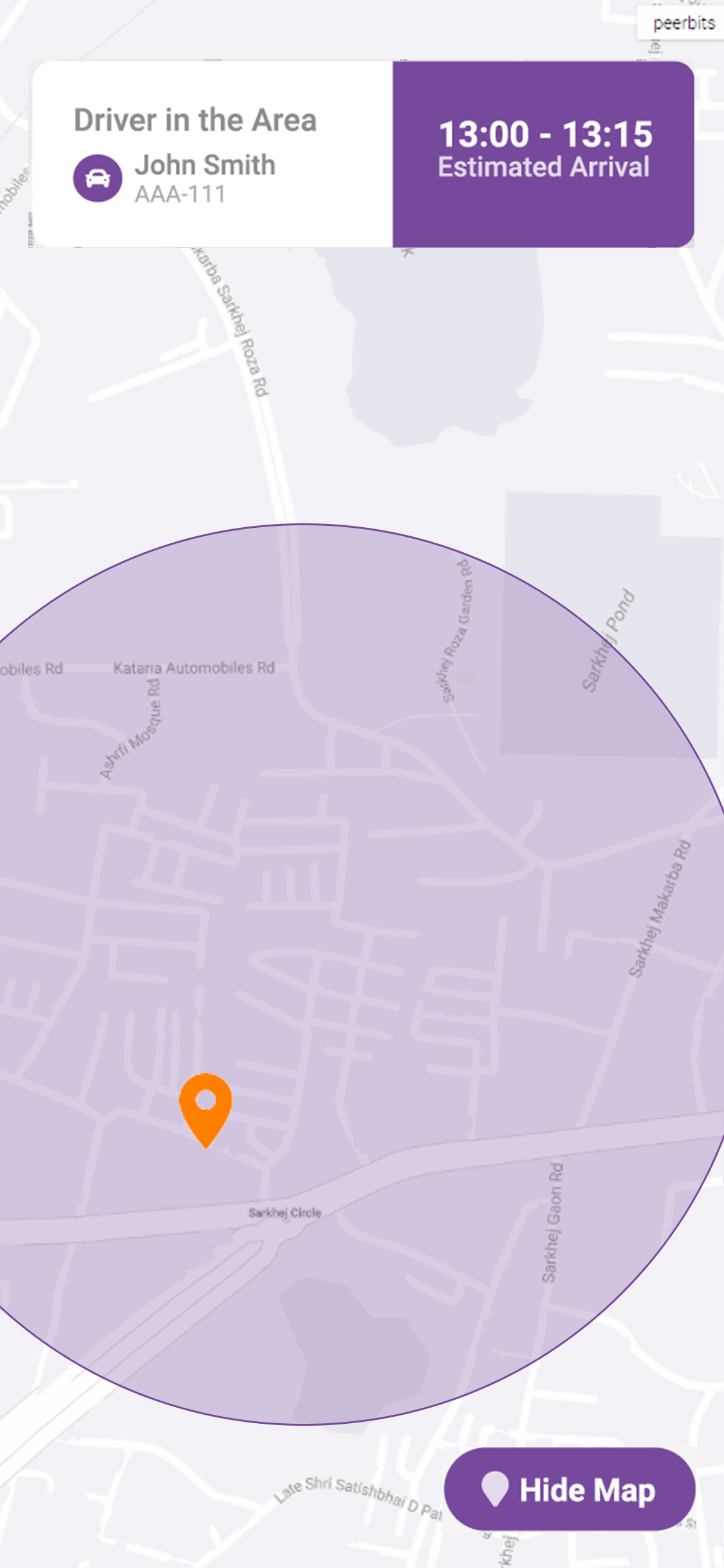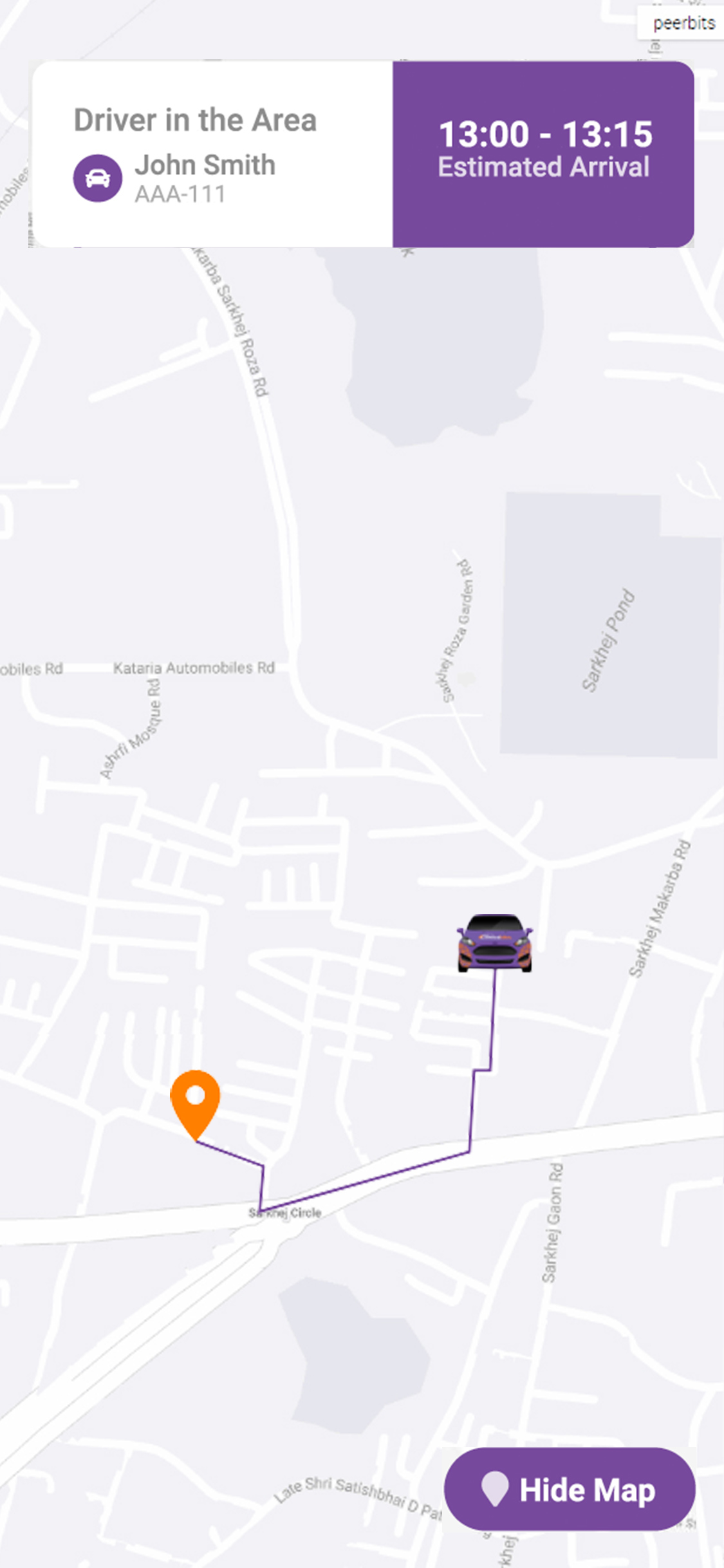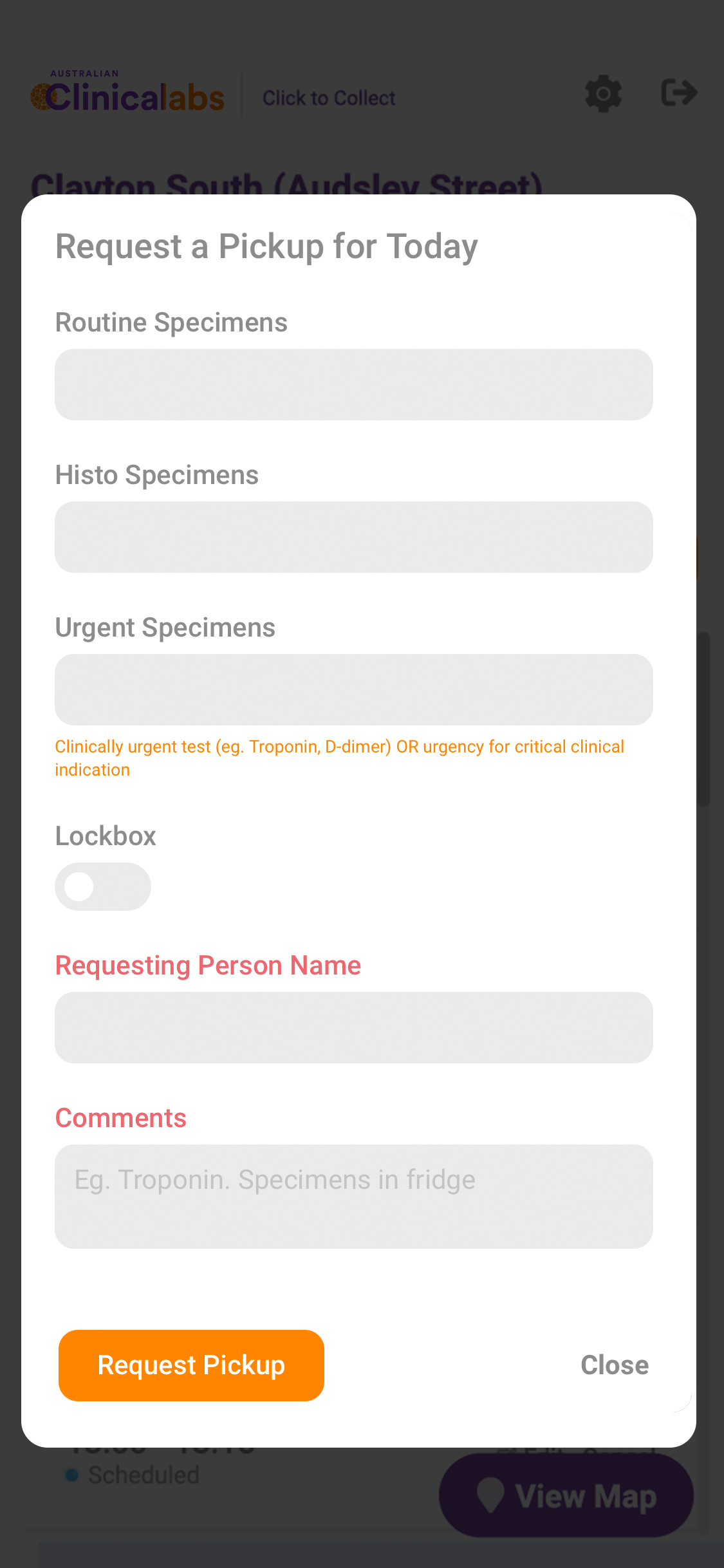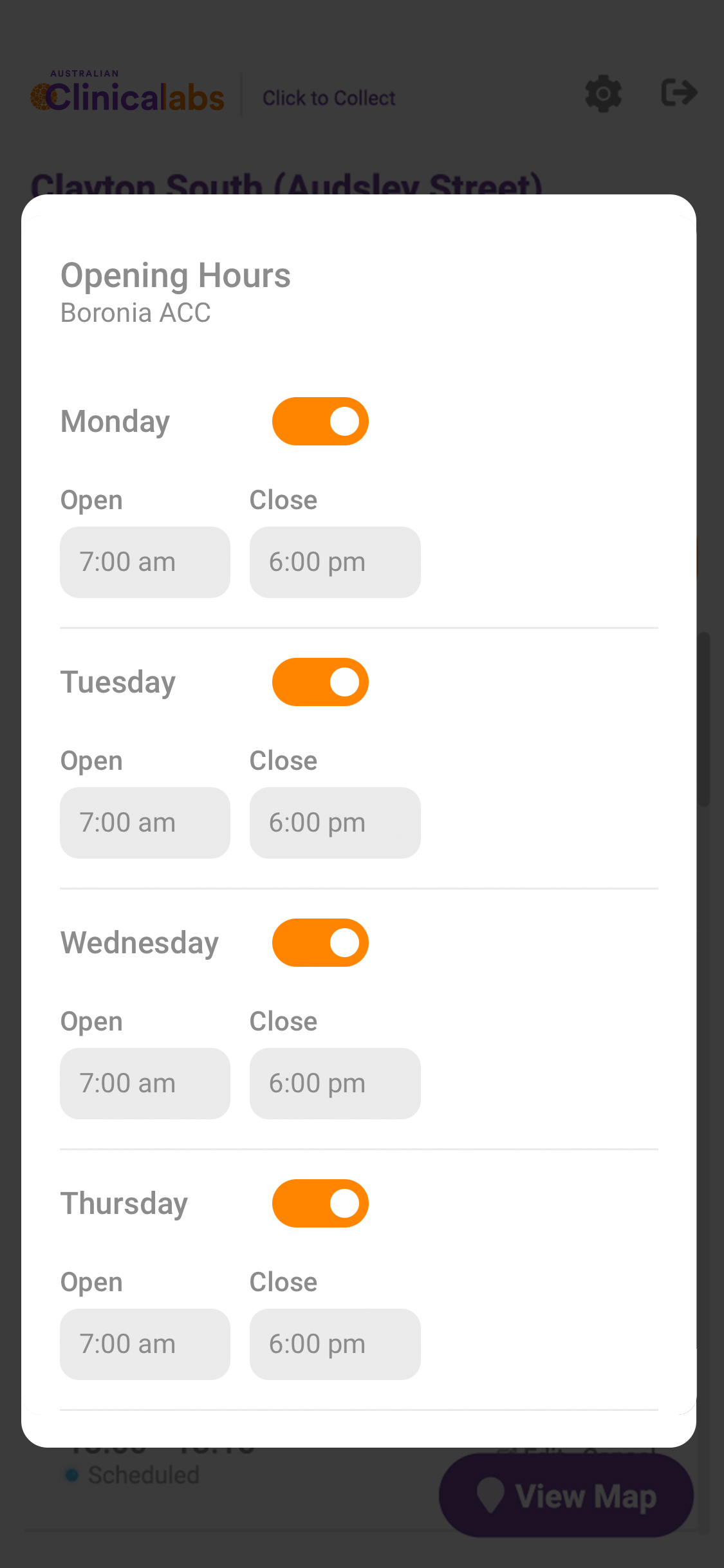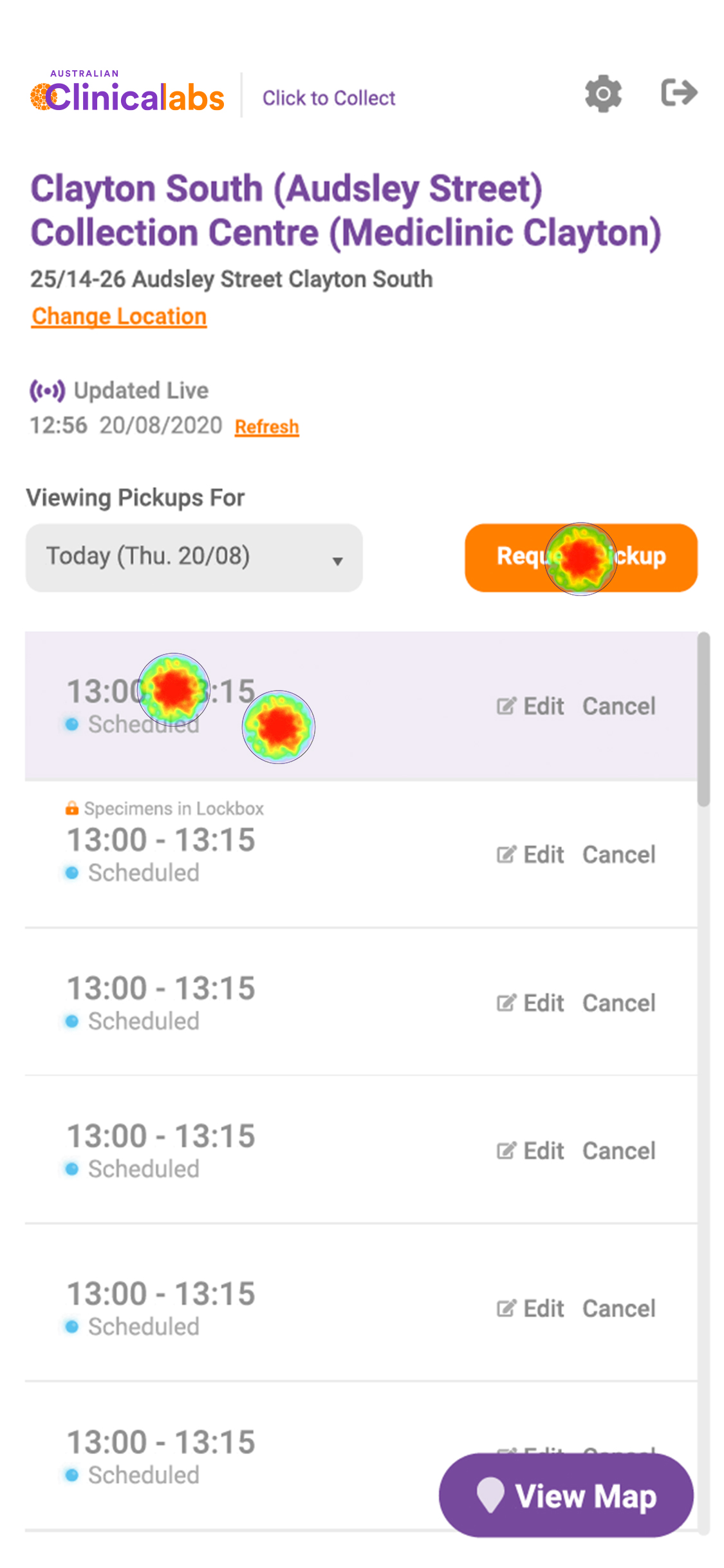 Usability Testing
Due to COVID-19 hitting the globe halfway through this project, I decided to conduct phone interviews with the the initial 4 medical centre managers I had interviewed. I sent them the prototype via a Userberry link so they could open on there mobiles.
During the phone interview I asked users to complete tasks and noted down any frustrations, and pain points they may come up against. Userberry also gave me extra insights such as completion time, heatmaps, video recordings, user flows and direct/indirect success during the process.
This allowed me to make slight adjustments to the design files before handing over to the development team for production.
What have you learned from this project?
As a designer, we are often lured by attractive, trendy and out of the box designs. But, We must always remember the 'why'. The primary goal is to understand the user, their problems and then come up with a design that solves it.
The main challenge that came from this project was to shift my focus from our external customers to our internal customers, who are our staff. This offered me an insight into the importance of internal staff resources and tools. Even though this project wasn't going to be used by our external customers, it made me understand that good customer experience begins from the tools we supply to our own staff.